Duration: 1 Day
Country/Region: Switzerland- Uri
Price: 290 CHF p.P.
Participants: 4-8
Dates: 05.02.202304.03.2023or on request
Avalanche accidents accompany us unfortunately through every winter season and are mostly caused by winter sports enthusiasts and snowshoe hikers, often with serious consequences. As conscious mountain lovers, it is our responsibility to educate aware and capable participants, in case of an emergency.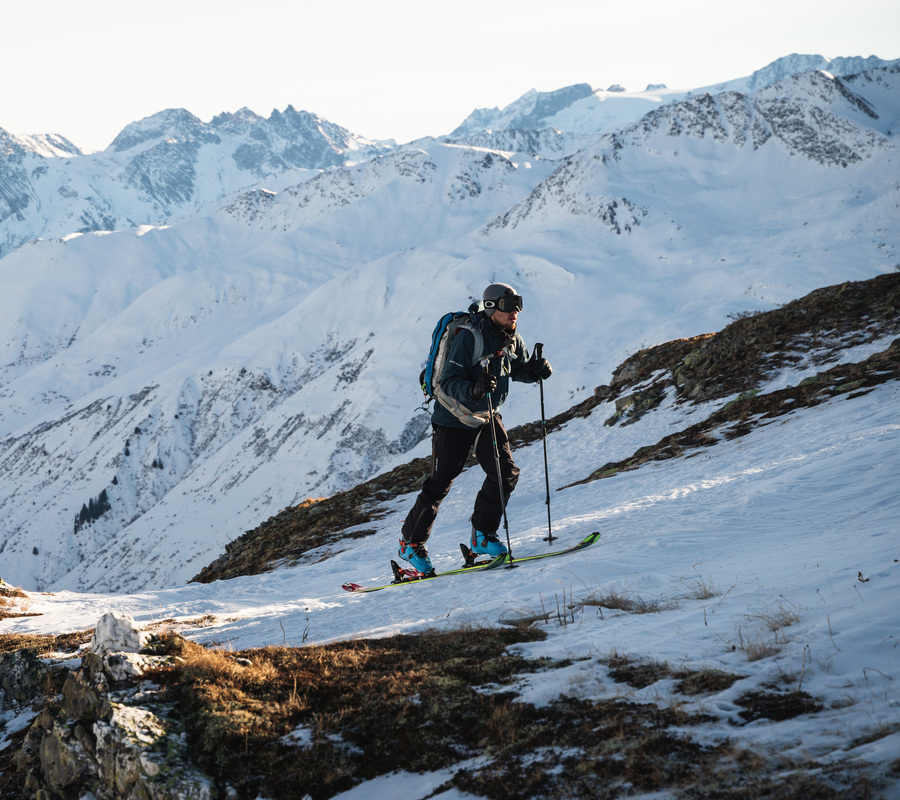 No previous experience necessary
Generally fit and able to hike up to 1 hr.
Avalanche Basic Course – Safety First!
Every year, more and more winter sports enthusiasts visit the pristine slopes of our mountains. This leads to an increased number of avalanche accidents, some of which could have been avoided through training and know-how on how to act in emergency situations. As conscious mountain enthusiasts, it is therefore our responsibility to train participants who are aware and able to act. We will present all common rescue techniques and avalanche transceivers so that nothing stands in the way of a safe ski, splitboard and snowshoe season.
We will hold this course in several areas around Andermatt, Riemenstalden or the Klausen Pass.
Splitboarder and snowshoers are welcome, as the training is aimed at all types of winter sports.
Avalanche Basic Course
The right offer if you want to pursue your winter activities in complete safety
Your benefits with Exped Tribe:
Local and multilingual mountain guide
Support member
who will document the trip with professional recordings and look after your well-being. You will receive drone videos, photos and much more as a souvenir of your adventure.
Small groups
of max. 8 participants. Increased flexibility, familiar atmosphere and harmonious get-together. We do our best to ensure that all participants have an incredible adventure! We conduct expectation phone calls and pool participants who have similar expectations and abilities. We are happy to accept special requests!
Vegetarian friendly
We offer Alpine gourmet cuisine, completely without meat/fish!
Co2 compensation
Planting of several trees per participant. You will receive a certificate of your trees and will be able to follow their growth.
Test materials
Cost-effective rental materials such as LVS devices, avalanche airbags and much more are at your disposal.
Planned schedule of avalanche basic course
Morning
At the meeting point the equipment is distributed and we reach the course location by a short hike, in an idyllic location in the snowy region of Uri. After a short theoretical introduction, we practice an avalanche rescue to familiarize ourselves with equipment such as LVS device, shovel and probe. Evaluating the snowpack is also on our program.
Afternoon
After a short break, we get down to business again! We will look at topics such as track selection for the descent, reading avalanche bulletins and defensive approach in avalanche terrain. At the end of the course you will be able to start your tours independently and safely.
Countdown counter until the next avalanche course
Important info about your avalanche course
Clothing
Hard Shell jacket

Soft Shell or down jacket

Breathable clothing

Beanie

Gloves
Miscellaneous
Sunglasses or ski goggles
Sun and lip lotion
Drinking bottle and thermos flask
Ev. camera and powerbank

Backpack (10-30l)
Technical equipment
LVS Set (

LVS device, shovel, probe)

Avalanche airbag, if available
Leistungen
Swiss certified mountain guide

Snacks and tea

Group material



Catering
Snacks (to increase the energy level again): This is eaten between breakfast and dinner and taken along for appropriate days. Dried fruit, chocolate, cheese, wholemeal bread and energy bars are suitable. So that your backpack is not too heavy, you should not take too much food with you.

 Snacks and tea: Included on this tour. Out of commitment to animal welfare, we do not offer fish/meat. We do our best to keep the menu as exciting as possible despite logistical obstacles. Please notify us in advance of any special dietary needs.
Others
The exact location for the avalanche course can be adjusted depending on snow and weather conditions

The course is aimed at ski tourers as well as snowshoe hikers and splitboarders. Everyone can benefit enormously from the acquired know-how in an emergency situation!
Kürzliche Trips
Erfahre mehr über unsere einzigartigen und erstaunlichen Erlebnisse.
Via the normal route to the eastern summit (2747 m) Difficulty: Moderate Ascent: 3-4 Hrs., 1210 Hm Descent: 1210 Hm Exposition: NE Vibe: RelaxedThis tour in 3 words: Sunny, wide, pleasant. Perfect for: Beginners, splitboarder, bad weather, Days with high avalanche...
weiterlesen
Top alpinist on the move Dani Arnold has been known for years as the best ice climber in the world. His records range from free solo ascents while rock climbing to speed records on the most famous north walls of the Alps and the opening of new ice and mixed climbing...
weiterlesen