HIGH ALTITUDE COURSE HYBRID Tent based
Duration: 2 Days
Country/Region: Switzerland, Uri
Price: 690 CHF p.P.
Participants: 4-8
This high altitude course in expedition format will teach you on the one hand the necessary basics, as well as safety and rescue techniques to be able to undertake simple high altitude tours independently. On the other hand we will camp in expedition style on the glacier. 
A hands-on course in a class of its own, for true adventurers!
Hiking with heavy backpack for up to 6 Hrs./Day
Use of ice axe and crampons
No previous experience necessary
Hybrid High Altitude course for adventurers
The sky slowly turns pink and the peaks lining up seem even more dramatic and rugged than they looked in the daylight. It's a beautiful natural spectacle. The sun stops warming and we have to shovel out a flat where we will place our tents. By the time we are done, night has caught up with us. Dinner is meanwhile simmering over the gasoline stove we entrust for these trips, waiting for hungry mountaineers. The sky fills with stars, the visibility is crystal clear and the air is ice cold. We have a sip of tea and toast to the successful day, chat for a bit, and then head to our tents, where we are embraced by warm sleeping bags. Tomorrow will be another magnificent day that will take us to untouched corners of the canton of Uri, far away from it all, and yet very close to the nature that we appreciate so extraordinarily.
In these two days we will learn a lot: from the correct use of crampons and ice axe, the planning of a tour and map reading, to crevasse rescue and much more. To make the whole thing even more adventurous we will camp on the glacier.
If you have specific topics you want to clarify, we will tailor course content so that you will obtain your desired know-how.
Our tent based expedition format high altitude courses are as unique as you are: that's why we plan them carefully and adventurously so that we will have an unforgettable adventure full of breathtaking views, exercise and fun on the glacier.
Some areas where we offer our Hybrid High Altitude Courses are:
Furka, Susten, Hüfi, Gadmen and many more.
High Altitude Basic Course
The perfect offer if you want to experience a two-day training in alpine environment and combine it with winter camping.
Ready for some action?
Your benefits with Exped Tribe:
Local and multilingual mountain guide
Support member
who will document the trip with professional recordings and look after your well-being. You will receive drone videos, photos and much more as a souvenir of your adventure.
Small groups
of max. 8 participants. Increased flexibility, familiar atmosphere and harmonious get-together. We do our best to ensure that all participants have an incredible adventure! We conduct expectation phone calls and pool participants who have similar expectations and abilities. We are happy to accept special requests!
Vegetarian friendly
We offer Alpine gourmet cuisine, completely without meat/fish!
Co2 compensation
Planting of several trees per participant. You will receive a certificate of your trees and will be able to follow their growth.
Rental materials
Cost-effective rental materials such as crampons, ice axe,  expedition tents and much more are available.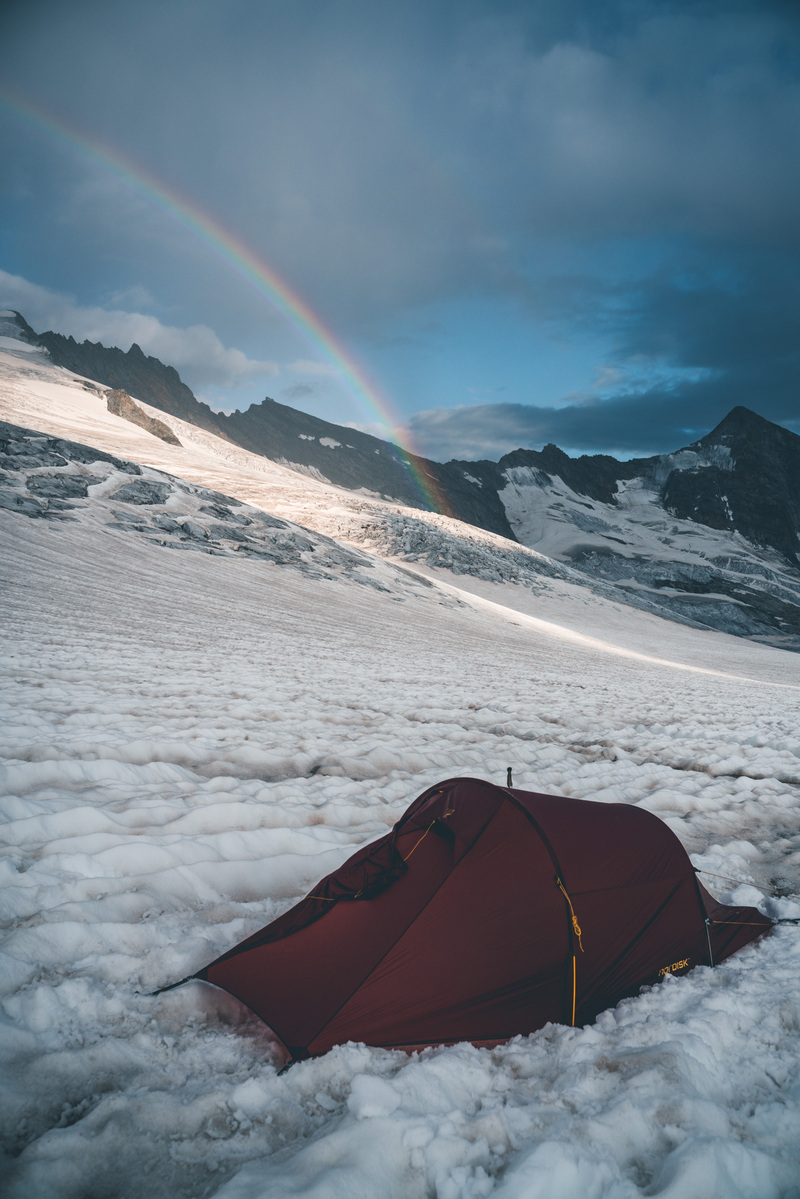 Planned schedule of the Hybrid High Altitude Course
Day 1
We meet at the "Grotte De Glace" on the Rhone glacier and distribute the equipment among participants. We receive an introduction to the safe walking technique with crampons. Soon we are all secured to the rope and hike through crevasses and small watercourses. After about 3 hours of hiking we reach our base camp. After setting up camp, we learn about the different rescue techniques on the glacier, and practice using ice axes and crampons with an exciting ice climbing parcours.
As the day comes to an end, we enjoy a warming expedition-style vegetarian dinner. We gaze at the stars and discuss again the techniques and aspects that were used. Sleep tight and see you tomorrow!
Day 2
We eat a fortifying breakfast and start today's hands-on tour with dreamlike views. The summit is selected with all members, so that everyone is at the same level. In ideal conditions, however, we head for the majestic Dammastock peak. With its 3630 m it is the highest mountain in the canton of Uri. The view from the ridge is unique, and the last steeper meters are easily manageable even for first-time alpinists. Thanks to the techniques learned, everyone should be able to navigate through the crevasse landscape. After a well-deserved summit photo, we gently make our way back to Base Camp. Once we reach it, everything is dismantled before heading back to the valley. The pictures and videos of this incredible micro expedition tour will be taken by a professional photographer. So you can prove to everyone what really extraordinary you have experienced.
Important Info about your adventure
Clothing
Hard Shell jacket
Spare underwear (the warmest you have)
Warm and waterproof touring pants, warm base layer & sweater
Soft shell or fleece jacket
Hat, gloves, balaclava
Two pairs of long and warm socks
Miscellaneous
Sunglasses
Ski goggles
Sun and lip cream
Drinking bottle and thermos flask
Camera and power bank
Plaster and Compeed
Ankle-high, stiff and waterproof mountain boots
Backpack (80-100l)
Technical equipment
Telescopic poles

Crampons suitable for the mountain boots

Ice axe

Climbing harness


Glacier set (Grigri or Micro Traxion, webbing sling 60 cm, webbing sling 120

cm, 2x Prusik sling, 2x HMS carabiners, 2x ice screws)

Further climbing material, if available
For the overnight
Warm sleeping bag (comfort temperature -5°/-10°)
Sleeping mat (insulated preferably)
ISO mat
Cutlery (fork/knife/spoon/cup/bowl)
Headlamp
Toiletries (reduced to minimum)
Other camping equipment, if available
Services
Federally certified mountain guide

Half board

Professional photo and video reportage

Group material
Catering
Snack (serves to replenish the energy balance): This is eaten between breakfast and dinner and taken along for appropriate days. Good choices are dried fruit, chocolate, cheese, whole grain bread and energy bars. Remember not to make your backpack too heavy.
Half board (included): Out of commitment to animal welfare, we do not offer fish/meat. We do our best to keep the menu as exciting as possible despite logistical challenges. Please notify us in advance of any special dietary needs
Rental material
Trekking poles, CHF 15.00
Climbing harness, CHF 20.00
Crampons, CHF 20.00
Ice axe, CHF 15.00
Glacier climbing set, CHF 50.00
Winter sleeping bag, CHF 50.00
Insulated sleeping mat, CHF 25.00
Trekking backpack (80l), CHF 20.00
Private expedition tent, CHF 35.00
Others, Add-Ons
This high altitude course is suitable for both beginners and advanced, as the course content is adapted according to the wishes and level of all participants;
HIGH ALTITUDE COURSE
A tent-based adventure in a class of its own that prepares you for the high-altitude touring season and longer expedition trips
Book now
Kürzliche Trips
Erfahre mehr über unsere einzigartigen und erstaunlichen Erlebnisse.
If you dream of taking your first steps in the exciting world of ski touring, you've come to the right place! In this article you will learn everything you need to know for your first ski tour: from the necessary equipment to the benefits of a ski touring course,...
read more