PORTALEDGE PLAISIR relaxed vertical camping
Duration: 1 1/2 Days
Country/Region: Switzerland, Uri
Price: 550 CHF p.P.
Participants: 3-5
Dates: on request
Have you ever wondered what it's like to spend the night "on the wall", hundreds of meters above ground? And to feel like a professional alpine climber?
This beginner experience allows anyone to enjoy a night of "vertical camping" on a portaledge. You don't have to be a climber to treat your eyes to breathtaking views!
A relaxing overnight in your wall suite
In the early 70s, the first Portaledges were developed in Yosemite by the climbing community to cover multi-day climbs on El Capitan. The first prototypes were made of fabric and steel constructions, weighed a lot and could not be folded.
However, there were some advantages for the climber: He could stay longer on the wall from now on, and spend the night reasonably comfortably, as well as carry quite a bit more gear and food on his ventures. Due to the improvement of the portaledges, hammocks and overnight stays on natural ledges along the route on big walls have now been almost completely replaced. Today, ledges are used on most of the world's biggest walls, providing not only a comfortable place to stay, but also a special experience for non-climbers.
Our Portaledge adventures require a lot of know-how, material and logistical effort. They are carefully and adventurously planned by us so that we can enjoy an unforgettable experience full of breathtaking views, exercise and fun on the rock. Some cantons where we offer our Portaledge overnights are: Ticino, Uri, Bern, Nidwalden, Glarus and many more.
Portaledge Plaisir
The perfect offer if you want to experience a relaxing Portaledge overnight stay in alpine surroundings.
Ready for some action?
Your benefits with Exped Tribe:
Local and multilingual mountain guide
Support member
who will document the trip with professional recordings and look after your well-being. You will receive drone videos, photos and much more as a souvenir of your adventure.
Small groups
of max. 5 participants. Increased flexibility, familiar atmosphere and harmonious get-together. We do our best to ensure that all participants have an incredible adventure! We conduct expectation phone calls and pool participants who have similar expectations and abilities. We are happy to accept special requests!
Vegetarian friendly
We offer Alpine gourmet cuisine, completely without meat/fish!
Co2 compensation
Planting of several trees per participant. You will receive a certificate of your trees and will be able to follow their growth.
Rental materials
Cost-effective rental materials such as winter sleeping bags, climbing equipment and much more are at your disposal
Planned schedule of the Portaledge Plaisir adventure
Day 1
At the meeting point we prepare our equipment and reach on foot the place where the overnight stay will take place. Our mountain guide will give us an introduction to abseiling and ascending on fixed ropes with technical equipment. Then we abseil down the rock face to prepare the portaledge and our mats and sleeping bags for the night. We climb up again on the fixed rope and enjoy a delicious vegetarian dinner (or barbecue) with breathtaking views over the mountains. Sleep Thight!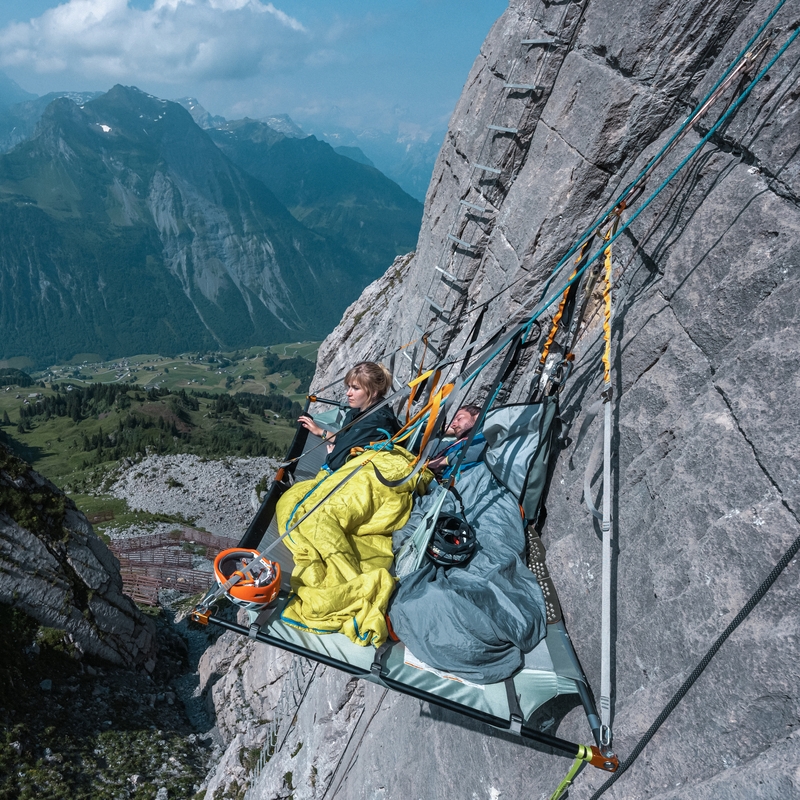 Day 2
The first rays of sun on the wall gently wake us up and we get to enjoy the breathtaking view again.
After stowing our gear and the Portaledge, we climb back up the rope and enjoy a fortifying, warming vegetarian breakfast. Finally, we share our impressions about this plaisir experience. We say goodbye at about 10:00.
Countdown counter until the next Portaledge overnight stay
Important information about your adventure
Clothing
Hard Shell Jacket
Soft shell or fleece jacket
Spare underwear
Climbing pants, T-shirt and sweater
Warm clothes for the night
Hat, gloves
Miscellaneous
Sunglasses
Sun and lip cream, sun hat
Drinking bottle
Ev. camera
Sturdy shoes for approach
Backpack (30-50l)
Technical equipment
Helmet
Climbing harness

Other climbing material, if available
For the overnight
Sleeping bag (comfort temp. 0°)
Sleeping mat or ISO mat (preferably insulated)
Cutlery (fork/knife/spoon/cup/bowl)
Headlamp
Toiletries (reduced to the minimum) 
Other camping material, if available
Services
Federally certified mountain guide

Half board

Professional photos and video reportage

Group material
Catering
Snacks (not included, serves to replenish energy levels): This is eaten between breakfast and dinner and taken along for appropriate days. Dried fruit, chocolate, cheese, wholemeal bread and energy bars are good. Remember not to make your backpack too heavy.
Half board (included): Out of commitment to animal welfare, we do not offer fish/meat. We do our best to keep the menu as exciting as possible despite logistical challenges. Please notify us in advance of any special dietary needs
Rental material
Climbing harness, CHF 20.00
Helmet, CHF 15.00
Climbing set, CHF 30.00
Sleeping bag (comfort temp. -5°), CHF 30.00
Insulated sleeping mat, CHF 25.00
Add-ons
Non-climbers are welcome, as no prior knowledge or experience is required.

We also offer this course in conjunction with a beginner climbing course.
Kürzliche Trips
Erfahre mehr über unsere einzigartigen und erstaunlichen Erlebnisse.
If you dream of taking your first steps in the exciting world of ski touring, you've come to the right place! In this article you will learn everything you need to know for your first ski tour: from the necessary equipment to the benefits of a ski touring course,...
read more